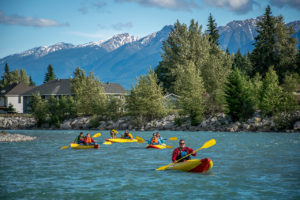 Summers in Golden, B.C. are special, and our kayak rentals will allow you to get out and paddle some of our beautiful lakes and waterways on your own.
All of our kayaks are two person, inflatable kayaks, and they offer a really stable way to get out on the water.  
Our kayaks are not meant for whitewater, but we can recommend a number of beautiful lakes in the area for you to go and explore.  There are options that are convenient, options that are popular, or options where you'll be off the beaten path and on your own in the wilderness.
I you have two vehciles, The Columbia River is a great option for a very calm, class 1 river. With the two vehicles, you'll be able to provide your own shuttle (we do not offer shuttles).
Kayaking around Golden is a full-morning or full-afternoon adventure. There aren't any options for a shorter river trip, so make sure you set aside enough time. We offer 4-hour and 8-hour rentals.
Extra Details
Rentals include 1 kayak, 2 paddles, 2 lifejackets and a pump
A full day rental is $79.00 (8 hours) and a half day rental is $59.00 (4 hours). Multi day rentals are also possible.
Additional gear such as wetsuits, splash tops, booties, neoprene socks and helmets are available to rent during the booking process.
Replacement cost will be charged for all gear that is damaged or not returned
If a bit of independent exploration is on your list for your trip through B.C., renting a kayak will give you the freedom to go where you want to go!