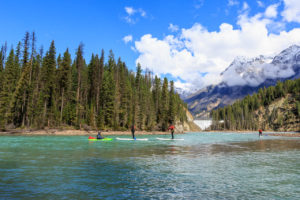 Stand Up Paddleboarding (SUPing) is an awesome way to get out and experience the lakes and rivers that surround Golden, British Columbia.
Our SUP rentals allow you to venture out on your own, and explore the beautiful landscapes, scenery and nature the Canadian Rocky Mountains are known for. Rent for a half day, full day, or multiple days if you desire.
Our SUPs range from 9' – 11' in size. All rentals come with a paddle, PFD, pump and leash. They are suitable for both experienced paddlers and first timers.
Where Can You SUP around Golden?
Depending on your SUP experience and ability, we can help direct you to the best spots around Golden. There are lots of convenient options, and others that will get you off the beaten path.
If you're thinking of heading east to Emerald Lake or Lake Louise, you can take a rented SUP with you!  Emerald Lake is one of the most beautiful spots around, and many visitors are limited to enjoy it only by hiking or sightseeing. Lake Louise as well is an iconic Canadian Lake that many only 'view' rather than experience. Treat yourself to a truly unforgettable experience and take a rented SUP with you!
SUP Rental Details
A full day SUP rental is $79.00 (8 hours) and a half day rental is $59.00 (4 hours).
For multi day rentals, please inquire.
Additional gear such as wetsuits, splash tops, booties, neoprene socks and helmets are available to rent during the booking process.
Replacement cost will be charged for all gear that is damaged or not returned.
A $5.00 Land Use Fee and 5% GST per person is added to all rentals.
Whether you're a first-time SUP-er or an experienced paddler who's looking to push their paddling to the next level, SUP rentals in Golden are a sure way to add to your Rocky Mountain adventures.