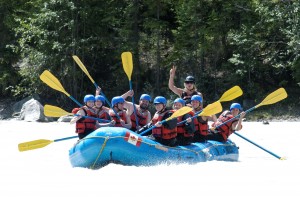 $99.00
Middle Canyon, 11 km (7 miles)
12:30PM-3:30PM
Rating: Giddy Up!
Enjoy an afternoon of whitewater rafting with our half-day rafting tour, beginning on the middle section of the river, where we join our full day trip  group for some of the best class 2-4 rapids on the Kicking Horse River!
Does not include lunch
Minimum weight: 90lbs/41 kilos
Minimum Age: 12 years or older
 *We are excited to announce that Wet N' Wild Adventures has merged with Glacier Raft Company starting in 2017. We will be operating out of the same great location with the same great service and we look forward to rafting with you this summer. Please get in touch if you have any questions – we are happy to help!
Tour Description
Join Wet N' Wild Adventures for an afternoon of rafting excitement! This half day White Water Express on the wild Kicking Horse River begins in the middle section of the river where we join the Discovery Trip for some of the best whitewater rapids on the Kicking Horse River.
This is the ideal river rafting tour for anyone exploring the lush Canadian Rockies while driving through Golden BC from Calgary, Banff, Lake Louise, the Okanagan or anywhere in BC! Our RV friendly parking area is a convenient stopover for travelers.
Tour Duration:
12:30pm to 3:30 pm (Mountain Standard Time – same as Calgary, AB)
Please arrive 15 minutes early to allow time for check in
White Water Express Includes:
11 kilometres (7 miles) of the middle section of the Kicking Horse River
Class 2-4 white water rapids
New high quality whitewater rafting river gear – wetsuits, booties, splash jackets, helmets
On site,  large, separate mens and ladies washroom/changeroom, complete with complimentary hot showers
RV friendly parking
Minimum Age: 12 years or older.
Weight Restriction: 90 lbs/ 41 kilos or over. Please call or email our office for more information.
What to bring:
Swimwear to wear  underneath the wetsuit
Sunscreen
Towel to have a shower afterwards
This white water trip is perfect for those who want an action-packed rafting adventure that easily fits into your travel schedule.