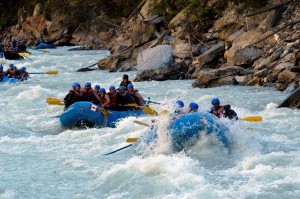 Middle and Lower Canyon, 22 km (14 miles)
12:30PM – 6:30PM
Rating: Kick N' Scream
Experience the biggest and best white water the Kicking Horse River has to offer with continuous class 2- 4 rapids that will thrill even the most experienced rafter! Does not include lunch, but includes a helicopter flight into the lower canyon. At times of high water the lower canyon may be closed, and alternatively, you will raft the middle section twice.
Minimum weight: 90lbs/41 kilos
Minimum Age: 16 years or older.
Does not include lunch
*We are excited to announce that Wet N' Wild Adventures has merged with Glacier Raft Company starting in 2017. We will be operating out of the same great location with the same great service and we look forward to rafting with you this summer. Please get in touch if you have any questions – we are happy to help!
Tour Description
Rafters will thrill to conquer the biggest white water rapids on the Kicking Horse River with Wet n' Wild's Pure White Water! Take on 22 kilometres of the middle and lower canyon where relentless class 3 and class 4 rapids and towering waves will thrill even the most experienced rafters.
*Note: The Kicking Horse lower canyon can only be run at specific water levels, and it will be closed at certain times throughout the summer when the water becomes too high for us to safely run it. When this occurs, we run the middle canyon whitewater section twice. Not to worry though – at high water, the middle canyon is as big as it gets!
* This trip is offered on Saturdays, Sundays, Tuesdays and Wednesdays in May, July, August and September.
* No experience required. Our guides will let you know exactly what to do!
*This trip is non-refundable from the time of booking. Due to the commitment required on our part with the heli provider we cannot issue a refund for any reason.
*We need a minimum number of people to raft the lower canyon. If those numbers are not met, we will not be able to heli into the lower canyon. If minimum numbers are not met you will not be charged for the lower canyon portion of the trip, or for the heli flight.
Tour duration:
12:30 pm to 6:30 pm Mountain Standard Time (Alberta/Calgary time)
Please arrive 15 minutes early to allow for check in time
The Pure White Water rafting tour is suitable for all experience levels and includes:
All high quality white water rafting river gear – wetsuits, booties, splash jackets, helmets
On-site Men's & Ladies' washrooms and change rooms complete with free hot showers
Minimum Age: 16 years or older.
Minimum Weight Restriction: 90 lbs/41 kilos or over
What to bring:
Swim suit to wear underneath the wetsuit
Sunscreen
Towel to have a shower afterwards
This heli tour is offered on Tuesdays, Wednesdays, Saturdays and Sundays!