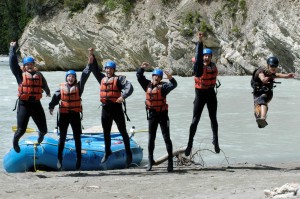 AS A RESULT OF THE COVID-19 PANDEMIC WE'RE NOT ABLE TO SERVE OUR RIVERSIDE BBQ LUNCH THIS SUMMER.  A SNACK AND DRINK WILL BE SERVED INSTEAD.
BECAUSE OF THIS, THE PRICE HAS BEEN REDUCED.
$169.00 now $149.00
Upper and Middle Canyon, 26 km 
9:30AM-2:00PM
Rating: Giddy Up!
New for 2020   If you want only your 'bubble' in a boat, consider our 'BOOK A BOAT' option for groups of 4-8 people and save $242.55.
The White Water Discovery is our most popular rafting trip, starting with a scenic float on the upper section, a waterfall walk up a canyon, followed by a riverside snack. After, raft the middle canyon with some of the wildest white water rapids the Kicking Horse River has to offer plus another waterfall stop!
Minimum weight: 90 lbs/41 kilos
Minimum Age: 12 years or older
Tour Description
Join us for a full day white water rafting trip on the Kicking Horse River.  The White Water Discovery starts with a relaxing scenic float on the upper section of the Kicking Horse River, providing unique opportunities to feast your eyes on the magnificent Canadian Rocky Mountains and scan the lush scenery for native wildlife.  Right before we pull over for a quick snack we will stop at a small canyon that leads to an enchanting waterfall.
Excitement awaits you on the second half of the trip. After a riverside snack, you will be guided down the middle canyon where class 3 rapids and class 4 rapids offering a fun and thrilling time for older kids and families.  We will also stop at Mermaid Falls to stretch our legs on the beach and dunk our heads in the falls (if you want). The middle canyon has some of the wildest white water rapids the Kicking Horse River has to offer! *Our full BBQ lunch will return for 2021 trips*
Tour duration:
9:30 am to 2:00 pm (Mountain Time. Same as Calgary and Banff)
Please arrive 15 minutes early to allow time for check in and signing waivers
White Water Discover River Rafting Tour Includes:
Guided scenic views and thrilling adventure covering 26 kilometres of the Kicking Horse River
Class 1 to Class 4 rapids
A riverside snack
All rafting safety gear – wetsuits, booties, splash jackets, helmets
On-site bathrooms and change rooms complete with free hot showers
Minimum Age: 12 years or older
Minimum Weight Restriction: 90 lbs/41 kg
What to bring:
Swimsuit to wear underneath the wetsuit (please arrive with swimsuit on under your clothes)
Towel for changing afterwards
Face covering that can get wet (buff, bandana or other due to Covid-19)  If you don't bring one we have buffs for sale for $10.
*We are excited to announce that Wet N' Wild Adventures has merged with Glacier Raft Company starting in 2017. We will be operating out of the same great location with the same great service and we look forward to rafting with you this summer. Please get in touch if you have any questions – we are happy to help!