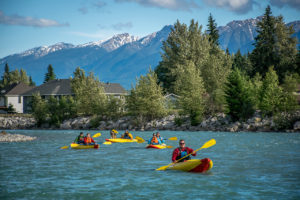 Renting a kayak is a fantastic way to explore all that Golden, BC has to offer. Kayaking on our beautiful lakes and rivers will get you access to views that you simply can't get anywhere else!
Our kayak rentals are 2 person, inflatable kayaks. They are extremely stable and simple to master.
Our area has a number of beautiful lakes and slow rivers for you to explore. From convenient options to popular choices right into wilderness-access secret gems. Ask us for directions!
If you have two vehicles, The Columbia River is a popular and easy option for a calm river adventure. It's a class 1 waterway without whitewater rapids. With the two vehicles, you'll be able to provide your own shuttle (we do not offer shuttles). Our kayaks are not rated for whitewater.
Kayaking around Golden is a full-morning or full-afternoon adventure. There aren't any options for a shorter river trip, so make sure you set aside enough time. We offer 4-hour and 8-hour rentals.
Rental Details
Rental prices include 1 inflatable kayak, 2 paddles, 2 life jackets and a pump
Full day rental rate: $89.00 (8 hours)
Half day rental rate: $69.00 (4 hours).
If you'd like to keep your kayak longer, we also allow multi day rentals. Please contact us for details.
During the booking process, you'll be able to rent additional gear such as wet suits, splash tops, booties, neoprene socks and helmets.
Damaged gear or gear that isn't returned will be charged at replacement cost.
A kayak is a narrow watercraft, much like a canoe. We offer premium kayak rentals to explore the waterways around Golden on your own time and route. Kayaks are ideal for folks of all ages and skill levels. They are great for families and couples alike, and they offer an intimate way to sight see and enjoy a day filled with treasured Golden BC memories. Kayaks, food and ambiance might just be the perfect way to explore this part of the Canadian Rocky Mountains!