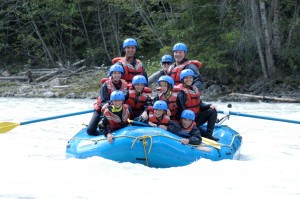 Low Season June 1 – June 14, September 16 – September 30 – $169 per night plus tax
High Season – June 15 – September 15 – $199 per night plus tax
Packages can be bundled with any of our raft trips and when you book a raft and stay package you save 10% from both your raft trip and your stay.
Give us a call!
Combine your whitewater rafting tour with an overnight in Golden, British Columbia at Whitewater Lodge, a log-built bed and breakfast. Choose a room  with two twin beds or one queen bed; all rooms have private bathrooms. Complimentary breakfast included and free wireless internet. Check in between 3PM-8 PM; Check out before 10:30AM.  Ages 14+ welcome.
Because this trip depends on B&B availability also, we do not offer online booking for it. Please call or e-mail us to direct to check availability and make your booking. Thank you!
Tour Description
Wet N' Wild Rafting Adventures has combined the rafting tour of your choice with a stay at Whitewater Lodge B & B in Golden, BC, conveniently located at our office! Your stay includes a hot buffet-style breakfast at 8 a.m. MST.
Raft N' Stay packages include one night's accommodation and rafting for 2 people. You can stay, then raft or raft, then stay; whichever works best for your travel plans!
[ Accommodation is suited for Adults or Children Ages 14 +]
Wet N' Wild Adventures offers packages including accommodation at the Whitewater Lodge and white water rafting on the Kicking Horse River in Golden, BC!