Complete your Canadian Rockies adventure by experiencing one of Canada's premier white water destinations, the mighty Kicking Horse River in Golden, BC! Wet N' Wild Adventures offers guided white water rafting trips and family-friendly raft adventures suitable for all ages and levels of experience. If you raft with Wet N' Wild, your convenient facilities include ample parking for RV stopovers, and awesome FREE hot showers – a luxury we know you'll appreciate!
Choose Your Adventure
What is the best trip for our group?
Available seven days a week, the White Water Discovery is a popular 5.5 hour trip for white water rafting Golden. Suitable for first timers and children 12 years and older. The 26 km tour starts with a relaxing scenic float, followed by a delicious riverside BBQ and ending with thrills through Class III and IV rapids. For those with less time, the afternoon White Water Express lasts roughly 3 hours and covers 12 km of Class II to IV rapids in the Middle Canyon, providing a day's worth of thrills in a short time.
The Family Adventure in the Upper Canyon is ideal for families with young children. A relaxing scenic float begins the rafting tour and includes just enough splashes to satisfy our youngest and apprehensive rafters, ensuring a memorable family friendly trip. The morning ends with a specially prepared BBQ lunch by the Kicking Horse River bank.
A more intense white water rafting experience is The Ultimate Adventure—an eight-hour trip for paddlers looking for serious white water raft tour that includes a hot riverside BBQ lunch and an exclusive helicopter ride to the lower canyon! Or, try the Pure White Water trip—a 5.5 hour trip through the Middle and Lower Canyon (heli access) with continuous Class III and IV rapids. The Lower Canyon of the Kicking Horse River is guaranteed to deliver an adrenaline kick with nonstop Class IV rapids—certain to thrill guests and provide lasting memories of the mighty Kicking Horse River and only accessible with a helicopter!
NOTE: Ultimate Adventure or Pure White Water trips: *At times of high water the lower canyon may be closed. During those days, we run the middle section of the river twice, which is as wild a ride as the lower canyon during high water!
Still not sure? Check our rafting FAQ section for more trip insight!
About the Kicking Horse River in Golden, BC
The Kicking Horse River is divided into three sections: the Upper, Middle and Lower Canyons. The river includes class 1 to class 4 rapids with names like 'Shotgun' and 'Roller Coaster' which hint at the thrills to come on your raft trip.  The Lower Canyon is accessible only by helicopter!
All of our clients are provided with head to toe safety gear – wetsuits, booties, splash jackets, thermal jackets and helmets. Our base facilities offer male/female change rooms complete with FREE hot showers. At Wet N' Wild Adventures, our helpful staff and experienced, certified guides pride themselves on delivering professional and safe river rafting trips for all of their guests.
Come meet our fantastic team, and prepare to get wet and wild on the rapids of the Kicking Horse River!
Raft N' Stay Package
Consider Golden as a base while exploring the great outdoors of Canada's West Kootenays. Wet N' Wild Adventures' cozy Whitewater Lodge is a classic log accommodation B&B with breathtaking views – perfect for pairing with a summer rafting trip. Check our Raft N' Stay Specials for combined accommodation and whitewater rafting offers to give you the best deal for your adventure stopover! [Adults or Children Ages 14 & up]
Booking your tour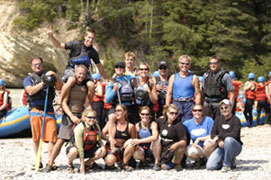 Avoid disappointment by booking your tour early! Walk-ins can sometimes be accommodated, however, reservations made in advance are recommended during the busy summer raft season.
Please note, all participants must sign a waiver before departing for any rafting tour.
*Prices are subject to change at any time
**We are excited to announce that Wet N' Wild Adventures has merged with Glacier Raft Company. We will be operating out of the same great location with the same great service and we look forward to rafting with you this summer.
Please get in touch if you have any questions – we are happy to help!