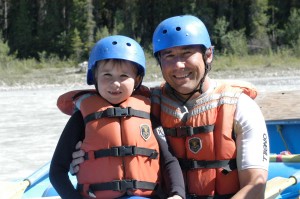 $69.00 Child 11 and under / $89.00 Adult
Upper Section, 14 km (7 miles)
9:15AM-1:00PM
Rating: GIDDY UP! Family fun for ages 4 and up!
Family Adventure is your best introduction to whitewater rafting on the Kicking Horse River. Especially suited to families, this trip begins with a small taste of whitewater followed by a scenic float where everyone gets to paddle if they want.  A magical waterfall walk along the way adds to the memorable experience.  At the end you will enjoy a riverside BBQ lunch and be brought back to our base.
Tour Description
Introduce your children to white water rafting with the Family Adventure trip on the upper section of the Kicking Horse River. Especially suited to families wanting a taste of adventure, this trip is a relaxing, scenic float offering opportunities to view the Canadian Rockies from a unique perspective. There are some splashes and small rapids on the Family Adventure, but we like to call it a fast paced float.  You'll get wet, but not soaked.
After a morning of relaxing fun and a waterfall stop, enjoy a BBQ lunch and drink on the banks of this beautiful rushing river before heading back to our base.
Rafting Golden BC
This is an excellent trip for families with children ages 11 or under, or for anyone really nervous about whitewater rafting.
Tour Duration:
9:15 am to 1:00 pm Mountain Standard Time (same as Calgary and Banff)
You must arrive 15 minutes early to allow time for check in
Included in this package:
14 family friendly kilometres of the scenic upper section of the Kicking Horse River
Class 1-2 white water rapids
Riverside BBQ lunch
High quality whitewater rafting river gear – wetsuits, booties, splash jackets, helmets
On site bathrooms and change rooms complete with complimentary hot showers
*Age Requirement: 4 years or older. Please call our office for more information.
What to bring:
Swimsuit to wear underneath the wetsuit. Please come with swimsuit on under your clothes
Towel to have a shower afterwards
Masks are no longer required but we're recommending all guests bring a mask for the bus ride to and from the river
Book a Boat
Continued in 2021  If you want only your 'bubble' group in a boat, consider our 'BOOK A BOAT' option for groups of 4-8 people and save $77.70.
*We are excited to announce that Wet N' Wild Adventures has merged with Glacier Raft Company. We will be operating out of the same great location with the same great service and we look forward to rafting with you this summer. Please get in touch if you have any questions – we are happy to help!